I can't believe that I haven't blogged this yet! Last weekend I noticed Apple was selling refurbished iMacs for a steeper discount than normal, and after a little soul-searching I bought myself a refurbished 24″ glossy widescreen iMac. I hadn't intended to buy it for a couple months, but I couldn't pass up $400 off.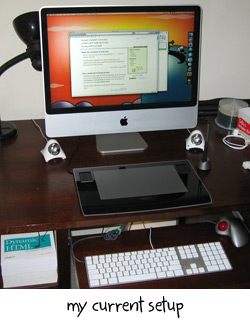 It arrived on Wednesday, and after spending most of the day migrating stuff over from my MacBook Pro I was able to start using the iMac for work on Thursday. It is now my work machine, and I'm a multiple-Mac owner.
I am ecstatic about the iMac. The screen is huge (which was why I wanted one; I've been getting frustrated with my ability to do detailed graphics work on the MacBook Pro), and absolutely gorgeous. It's perfect for the image work that I need to do, too; when I started using it Thursday, I instantly noticed some fairly severe JPEG artifacts that I'd missed on the laptop. I am continually impressed with Apple's design ethic, and the iMac is a great example of why Macs are a better choice than just about any other computer out there.
The move from a single computer to computers that are designated "work" and "personal" has been an interesting one. I decided before the computer arrived not to use Apple's migration assistant to move my data. The iMac has plenty of room, of course, so synching my home account wouldn't be a problem space-wise, but frankly my Home folder is a disaster. I try to remember to use AppZapper, but there are possibly hundreds of unused preference files from apps I installed once and never touched again, not to mention the hell of my desktop and downloads folders. My documents folder is slightly better off, but still suffers from a number of folders that third-party software dropped inside without consulting me.
In any case, migrating to a new computer seemed like an ideal time to clean things up, so I did everything by hand. Took a while, but the spotless iMac desktop tells me it was worth it. I also discovered some tools to ease multiple computer problems, but I'll share those another time.