One of my abiding problems is how to easily and quickly transfer files between my two computers. For the past several years, I have used an iMac as my work computer, and a MacBook Pro for my personal computer. (This might seem silly to some people since I work at home, and the two computers literally live about six feet away from one another most of the time, but I can't overstate how much this helps my sanity.)
Recently, the problem with moving files around has been exacerbated because my iMac is stuck running 10.6, and I need 10.7 to test Slicy, so I finally decided to hack something together to make life simpler. (I've debated many a time upgrading the iMac to 10.7, but given how bad a performance hit my newer and better-equipped-in-the-RAM-department laptop took when upgrading, there's no way I would be able to squeeze acceptable performance from the aging iMac.)
After looking at various options, I ended up creating a little workflow using Dropbox and Hazel, because both are tools that I already use. My goal was to create a way to move files to a different computer with a single action without needing the other computer to be awake or on the same network, and without using up my Dropbox storage quota on storing temporary files.
A disclaimer: the following workflow requires two to three bits of software, all of which will cost you if you aren't already using them: 1) Hazel ($25 at the time of this writing), 2) a Dropbox account with sufficient empty space to move arbitrarily-sized files around (free if you manage to get a ton of referrals, otherwise $100 a year), and 3) optionally FastScripts ($15 at the time of this writing) or some other way to quickly execute an AppleScript. Oh, and a Mac. You could do the same thing on Windows or Linux, but it wouldn't be as magical without Hazel (unless you could find some Windows or Linux equivalent app).
Setting up
The first step was easy enough; in Dropbox I created one folder for my laptop and one for my iMac ("To Laptop" and "To Desktop", respectively). Since I rarely access these folders directly, I hid them a ways down in the folder hierarchy in Dropbox to keep them out of the way.
The second step was to setup a Hazel workflow on each computer targeting that computer's folder. Here's the laptop's version: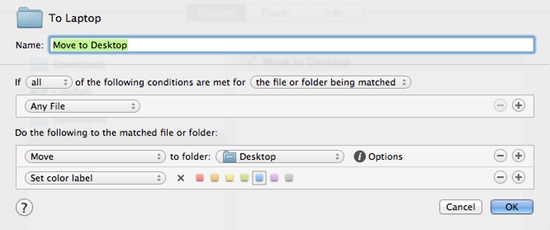 Basically, any time it finds a file in the "To Laptop" folder on Dropbox, it immediately moves it to the Desktop and colors it blue so that I'll notice it more easily. (You can, of course, move the file anywhere you liked; the Desktop is just convenient for how I work.)
Third, I wanted to be able to send files between computers with a keystroke, so I hacked together a quick Applescript that would take the selected file(s) in the Finder and duplicate them to my target Dropbox folder:
-- CONFIGURE: Set this path to your target folder
set targetDropboxFolder to POSIX file "/Users/MYACCOUNT/Dropbox/Sync/To Laptop/"

tell application "Finder"
	set targetSelectedFiles to selection
	repeat with activeSelectedFile in targetSelectedFiles
		duplicate activeSelectedFile to targetDropboxFolder with replacing
	end repeat
end tell
To use this script, create a new script in AppleScript Editor (/Applications/Utilities/AppleScript Editor.app), paste in the code above, adjust the path to your target Dropbox folder, and save it either in ~/Library/Scripts/ or one of its subfolders.
Personally, I use FastScripts to associate a keyboard shortcut with the script, but there are innumerable other ways to quickly access AppleScripts. Alternatively, you could just create an alias to your "To Other Computer" folder, stick it on the Desktop or somewhere else easy to get to, and then drag and drop things you wanted to move across (just make sure to hold down the option key when you do, or the file will be moved to the other computer rather than copied).
Wishing for an easier way
In a perfect world, I would write an app to take care of this stuff for me instead of relying on a bunch of third-party apps and services, but I don't really have time to devote to the concept. Ideally, I would prefer not to need to always route through the cloud; if I am transferring a file, and the target device is on the same local network, the file should just be moved across using the local network. For lack of a more elegant solution, though, this workflow functions well, was quick to setup, and has been making me happy. Hopefully it will help a few other folks, too, or at least sparks some ideas for easier transferring of files between computers.