If you take a close look at my current Dock, you may notice something rather ridiculous:

For those who didn't get past the funky CandyBar-ed Finder and Trash icons (courtesy of Icontraband), icons number four and five are both RSS readers: NetNewsWire and Times, respectively. NetNewsWire, of course, has been the de facto standard of Mac RSS readers for years, but Times is a newcomer to the scene (released only last week). I discovered Times via Daring Fireball and on first glance agreed with John Gruber's analysis; it was an appealing looking interface, but probably not for me. With the various software blogs and so forth that I follow for Tagamac, NetNewsWire handles about 140 different feeds, and Times' newspaper-style interface didn't look nearly robust enough to handle them.
It isn't. In fact, along with that discovery a quick review of my first Times impressions is none too pleasant:
Times is incessant nagware. I don't mind if a program reminds me there's a demo period when I launch it, but when it does it periodically throughout the time while it's running, I start wishing that I could somehow transmit electric shocks through the internet to the developer.
Times can't keep track of unread feeds to save its life. When you have a lot of feeds to read, you need to know which articles deserve attention and which don't. Times is extremely buggy in this regard. If I'm lucky, it will mark unread articles with little blue bullets for a single feed on a single page. If I'm unlucky, it won't mark anything unread at all.
Times is slow. Aside from the slowdowns that you occasionally get from all the Core Animation shenanigans, Times by design moves at a casual pace.
Times has a criminal lack of keyboard support. By default the program doesn't even have shortcuts for commonly-used menu items like "Mark all articles as read", never mind any semblance of keyboard navigation.
Times feels buggy. Overall, Times works well, but it didn't take me long to start running across small, frustrating bugs (like Times loading external article text for Daring Fireball's linked list, despite my checking the "disable full article downloading" checkbox).
When something fails, the user gets no explanation and often no feedback. Multiple feeds that I've added have simply failed to work (despite validating in Times, and working perfectly in NetNewsWire); no explanation by the program of why. Given the number of small bugs that I've come across in just five days of use, this is extremely foolish on the part of the developer because it means that I can't communicate to him accurately what isn't working.
Yet despite that impressive laundry list of cons, I used Times for four days, then moved it to a permanent place in my Dock and purchased it. And I don't have a single regret.
The reason is simple. All of my feeds fit neatly into one of two categories: feeds whose headlines I skim, and feeds where I read every headline and often read every article. NetNewsWire is great for the former category; Times is perfect for the latter (minor bugs notwithstanding).
When I first ventured into feed readers, I liked NewsFire because it was easy to scroll quickly through the "New Items" list and keep track of which feed I was looking at while I went. This meant I could quickly skim the feeds I didn't care about much and read the ones I did care about more carefully. When I switched to NetNewsWire (prompted by NewsFire's lack of updates and several annoying shortcomings), I organized my feeds into two primary groups based on how much focus I gave each (further organized by topic in most instances). However, I was never happy with NetNewsWire's workflow because its Latest News area is worthless (particularly compared to NewsFire's). It's just far too difficult to keep track of what feed a headline comes from when that info is stored in columns. I found myself clicking around in the NetNewsWire sidebar for every feed that I cared about, and then skimming through collections of feeds in folders for the ones I didn't care about. It worked, but it never really sat well with me.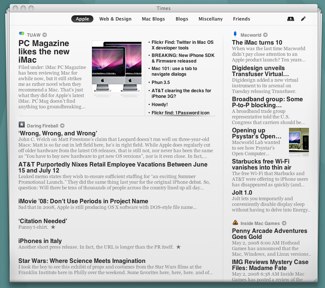 Times is completely inappropriate for skimming through large numbers of feeds, but it's perfect for a small number of feeds where you want to focus on every headline. The program uses the metaphor of a newspaper, complete with different pages and sections within those pages. Two of the three sections can contain multiple feeds, and you can resize the sections to provide a couple variations on the basic three-section page. By default, when you click a headline, Times folds or slides down to reveal the full text (your choice; I chose slide as the less superfluous and quicker of the two). If the feed doesn't contain full text, Times tries to fetch it from the webpage to display for you (extremely handy for major news sites that provide a couple sentences or less, although sure to give them headaches in the bandwidth department).
I didn't expect to enjoy browsing through articles in Times, but I do. Not only does it provide an easy way to track just the feeds I want to read, but the attractive interface, ability to read full text without the distraction of the flashing ads normally littering the page, and just overall laid-back and friendly attitude of the program make using it a joy that offset my frustration with its various small bugs and shortcomings.
I didn't really fall in love with the program, though, until I added a couple keyboard shortcuts using the System Preferences "Keyboard & Mouse" pane. Adding shortcuts to just two menu items made all the difference: "Mark All Articles as Read" received command-K and "Return to Page" (the command you have to trigger while reading the full-text version of the article) got the plain old left arrow. With these two commands, using Times became a relaxing one-hand maneuver: I use my right hand on my laptop's trackpad to scroll through any sections on the page or click article headlines. Spacebar or two-finger scrolling takes me through the full text, and then it's a short reach for my pinky to the left arrow to return to the page. When I'm done, command-K is again a very short reach away and all is right with the world.
What clinched the deal for me, really, was that the developer has been fixing bugs as fast as he can. Although he hasn't been particularly responsive, he's surely facing a mountain of feedback, and I've seen multiple bugs (and a small feature request) that I ran across and reported fixed within days. Plus the dude's 19 years old and probably has homework or term papers to write. Given how polished Times looks (even with its usability shortcomings), I've got high hopes for its future. The newspaper metaphor is a great alternative to standard feed readers, and makes Times vastly different from the rest of the crowd. And if we're lucky, Acrylic Apps will take the newspaper metaphor even further (I want to put the webcomics that I read on a single comics page in Times; who's with me?) as they continue to refine and improve the program.
Despite my expectations and initial impressions, I've ended up a happy user of Times and NetNewsWire both, and I highly recommend Times for anyone who wants an elegant way to track a small number of feeds they care about. This is certainly not a program for everyone, but if its presentation of news makes sense to you, I doubt you'll look back.